Many of the paintings have interesting stories behind them. So, I figured I'd share some stories.
Murray Hill was the second painting I created for this series of my fine art, but it was the first painting I finished. The first painting wasn't finished until 7 paintings later.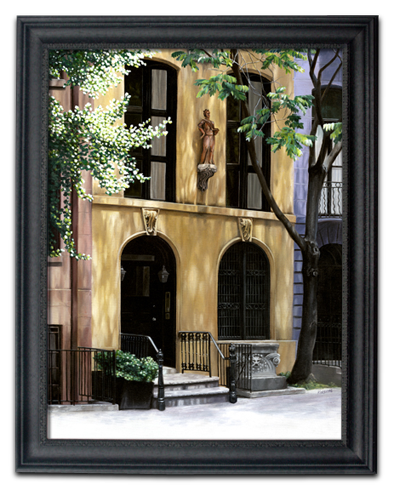 At the time I was living in Manhattan and walked to work everyday through the streets of Murray Hill and Midtown. One day this particular building was glowing from the sunlight coming through the trees. It illuminated the yellow building and drew my attention right in. I fell in love with the way the light and shadow danced on the facade of the building. I'm a sucker for old textured buildings that show their history with cracks and imperfections. Well, I ran back to my apartment and grabbed my camera. I took at least one roll of film shooting the landscape from different angles. After developing the film, the scene didn't hit me the same way. So, when I painted the scene, I tried to recall the feeling and impression I was hit with when painting it. Once the painting was finished it became an instant hit amongst friends. This inspired me to paint several scenes of light and shadow upon urban architecture.
About two months after the painting was finished, I passed by the site where the building is and everything was all wrong. They cut down both trees in the scene and they were refacing the building. It crushed me a little, but I was happy to have it preserved in my painting. You can still find the building in the Murray Hill area, but I'm sorry to say… it'll never be the same as I saw it.